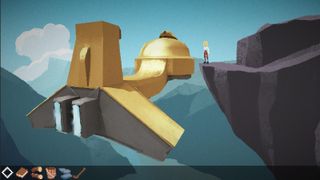 THE BEST ANDROID RACING GAMES
There are loads of great games available for Android, but how can you pick out the gems from the dross, and amazing touchscreen experiences from botched console ports? With our lists, that's how!
We cover the best titles on Android right now, including the finest racers, puzzlers, adventure games, arcade titles and more.
JUMP TO SECTION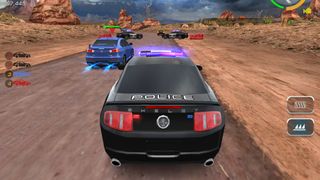 – Racing games
– Adventure games
– Arcade games
– Endless runners
– Platform games
– Puzzle games
– Shooting games
– Sports games
– Strategy games
– Word games
We've tried these games out, and looked to see where the costs come in – there might be a free sticker added to some of these in the Google Play Store, but sometimes you'll need an in app purchase (IAP) to get the real benefit – so we'll make sure you know about that ahead of the download.
Check back every week for a new game, and click through to the following pages to see the best of the best divided into the genres that best represent what people are playing right now.
Android game of the week: Chuchel ($4.99/£4.49/AU$6.99)
Chuchel is an exploratory puzzler that when played comes across like you're watching a series of a distinctly weird cartoon. The titular protagonist, a ball of fluff, wants nothing more than to get a cherry – but it's cruelly snatched away the second he gets near. Each single-screen challenge therefore tasks you with finding the convoluted route to Chuchel's goal.
Packed with the heart, humor, and animated smarts evident in previous Amanita Design games, Chuchel is a joy to watch as you tap hot-spots, make decisions, and watch events play out.
Some canned animations are lengthy, and logic isn't always prized, which means it can sometimes get tedious to trudge through a section until you nail the precise sequence to finish it. Still, this is more than offset by a game that frequently surprises and delights.
The best racing games for Android
Our favorite Android top-down, 3D and retro racers.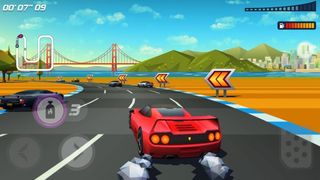 Horizon Chase (free + $2.99/£2.79/AU$4.09 IAP)
If you're fed up with racing games paying more attention to whether the tarmac looks photorealistic rather than how much fun it should be to zoom along at insane speeds, check out Horizon Chase. This tribute to old-school arcade titles is all about the sheer joy of racing, rather than boring realism.
The visuals are vibrant, the soundtrack is jolly and cheesy, and the racing finds you constantly battling your way to the front of an aggressive pack.
If you fondly recall Lotus Turbo Esprit Challenge and Top Gear, don't miss this one. (Note that Horizon Chase gives you five tracks for free. To unlock the rest, there's a single £2.29/US$2.99 IAP.)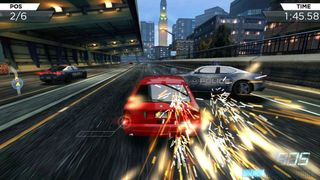 Need for Speed: Most Wanted ($4.99/£4.99/AU$7.99)
Anyone expecting the kind of free-roaming racing from the console versions of this title are going to be miffed, but Need for Speed: Most Wanted is nonetheless one of the finest games of its kind on Android. Yes, the tracks are linear, with only the odd shortcut, but the actual racing bit is superb.
You belt along the seedy streets of a drab, gray city, trying to win events that will boost your ego and reputation alike. Wins swell your coffers, enabling you to buy new vehicles for entering special events.
The game looks gorgeous on Android and has a high-octane soundtrack to urge you onwards. But mostly, this one's about the controls – a slick combination of responsive tilt and effortless drifting that makes everything feel closer to OutRun 2 than typically sub-optimal mobile racing fare.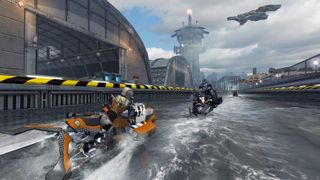 Riptide GP: Renegade  ($2.99/£2.99/AU$3.99)
The first two Riptide games had you zoom along undulating watery circuits surrounded by gleaming metal towers. Riptide GP: Renegade offers another slice of splashy futuristic racing, but this time finds you immersed in the seedy underbelly of the sport.
As with the previous games, you're still piloting a hydrofoil, and racing involves not only going very, very fast, but also being a massive show-off at every available opportunity.
If you hit a ramp or wave that hurls you into the air, you'd best fling your ride about or do a handstand, in order to get turbo-boost on landing. Sensible racers get nothing.